Plain-text format (compressed or not)
ASAP accepts as input simple Plain-text matrices, with as column delimiter tabulation, comma, semi-colon or space. First or last column as gene names is optional. Gene names are then mapped to the Ensembl database. First line as cell/sample names is optional too. The file can be compressed.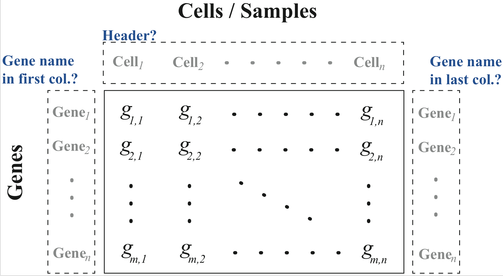 Archive (compressed or not)
ASAP supports archive files that contain several datasets in a plain-text format. You can select which dataset to take as input in the interface.
ASAP requires all three files to be archived/compressed in a single file (.tar, .tar.gz, .gz, .zip, .bz2, .tar.bz2). The files need to be named:
barcodes.tsv
genes.tsv or features.tsv
the main data matrix in a file with extension .mtx. If several mtx files are present, a file named matrix.mtx is required and only this one will be used